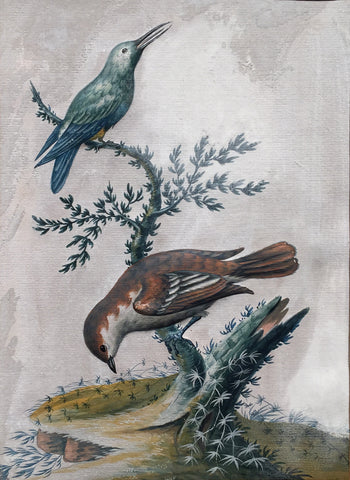 Isaac Spackman (British, c.1700-71), Hen Goldfinch and American Humming Bird
Isaac Spackman (British, c.1700-71)
Hen Goldfinch and American Humming Bird
Watercolor and gouache on embossed paper
London, 1764
Paper size: 10 1/2 x 7 3/4 in.
Reference: A.K. Longfield. "To Paint A Mockingbird: Identifying Isaac Spackman's Embossed Bird Pictures." Country Life. January 25, 1979, 196-197.
During the mid-eighteenth century, Irish artist Samuel Dixon invented and popularized a new painting technique known as basso-relievo, most notably used to embellish natural history subjects, especially birds and flowers.  Artists employing the basso-relievo method used a copper-plate mould embossed from the back of the paper to create a three-dimensional composition.  Each work was then painted with watercolor and highlighted with gouache.  These works served a dual function; they were decorative paintings and models to be copied by amateur embroiderers and needleworkers.  

London-based artist Isaac Spackman imitated Dixon's technique, and like his contemporary, he borrowed imagery from George Edwards' Natural History of Uncommon Birds.  However, each artist utilized the Natural History of Uncommon Birds imagery differently. While Dixon copied every detail of Edwards' compositions, Spackman copied only the birds. Unlike Dixon, who had three apprentices, Spackman worked alone. Consequently, his spiky bushes were not only his creative outlet but one of necessity; copying the entire Edwards foreground would have been far too laborious.

Spackman produced his first set of twelve paintings in 1754, the second in 1764, and the final grouping in 1769.  
Please feel free to contact us with questions by phone at 215.735.8811,
or by email at loricohen@aradergalleries.com 
---
We Also Recommend