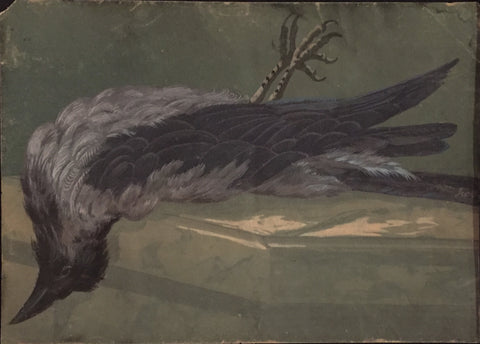 Attributed to Jean-Baptiste Oudry (French, 1686 -1755), Raven, Nature Morte
Attributed to Jean-Baptiste Oudry (French, 1686 -1755)
Raven, Nature Morte
Black ink and watercolor on paper
Paper size: 7 3/4 x 12 in.
Frame size: 13 x 17 in.

Though his father was a painter and art dealer, Oudry's first formal art training came from portrait painter Nicolas de Largillière. By about 1720, the young man was concentrating on animals, hunts, and landscapes. He became a member of the Académie de Peinture et de Sculpture in 1719 and a professor there in 1743. From 1726, Oudry had great success designing tapestries. In 1734 he was named director of the Beauvais tapestry factory, which he re-established by bringing in artists like François Boucher. Two years later, he became director of the Gobelins factory. Also, Louis XV, king of France, often called Jean-Baptiste Oudry to Versailles to paint the royal hounds--in the king's presence.

While unsigned, these works are similar in brushstroke, tone, and quality of Oudry watercolors' album at Harvard Art Museum, which were preparatory works for tapestries.
Please feel free to contact us with questions by phone at 215.735.8811,
or by email at loricohen@aradergalleries.com 
---
We Also Recommend