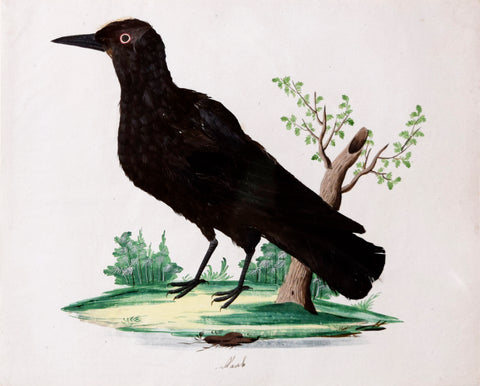 Unknown Artist (German, Early 19th Century), [29]
Artist Unknown (German, Early 19th Century)
[29]
From a Unique collection of featherbird pictures
Annotated in German with the specifics name in contemporary hand
Watercolor and bird's feathers on paper
Germany, Early Nineteenth-century
Framed size: 25 x 22"
This unique collection of featherbird pictures presents an array of different birds- from the classic toucan to a lively duck. The pictures are a marriage of watercolor and actual bird feathers from each species delineated. The resulting works are among the most charming and fascinating bird studies of the period..

This tradition dates back to the late 17th century when collecting bird feathers was a popular endeavor among hunters and naturalists. In the nineteenth century, the artistic tradition of incorporating a birds plumage into natural history watercolors and illustrations was fine tuned and accomplished with remarkable precision resulting in delightful bird portraits.
---
We Also Recommend