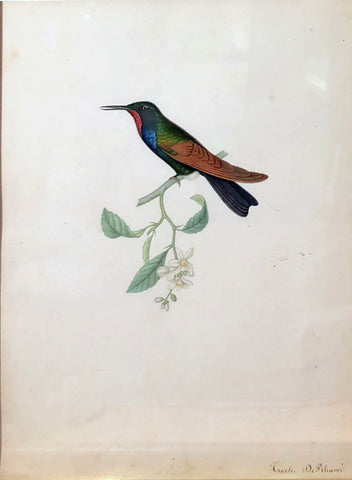 Alphonse Prevost (French, F. 1820-1850), Lamprolaima rhami [Garnet-throated Hummingbird]
Alphonse Prevost (French, F. 1820-1850)
Lamprolaima rhami [Garnet-throated Hummingbird]
Paris: Ca 1825-1850.
Single sheet, wove paper, framed (11 x 9 inches; framed size 14 x 12 inches)
A painting of a garnet-throated hummingbird, Lamprolaima rhami, perched on a sprig of flowering jasmine, original watercolor and gouache over graphite, heightened with gum arabic, inscribed in ink lower right "Troch. De Rhami" [possibly in Edouard Travies' hand], and in pencil by the artist "A. Prevost".

A superb painting of the Garnet-throated hummingbird found in El Salvador, Guatemala, Honduras, and Mexico.
Little is known about Alphonse Prevost's life. However, we know he worked extensively with Rene Primevere Lesson (1794-1849) preparing illustrations of specimens at the Natural History Museum in Paris. Lesson chose a great number of Prevost's Hummingbirds for his Histoire Naturelle des Colibris, suivie d'un supplement l'histoire naturelle des oiseaux-mouches - Les Trochilidees ou les Colibris et les Oiseaux-Mouches - Histoire Naturelle des Oiseaux-Mouches. Several of Prevost's original drawings for the series found on the following pages. Prevost was also the illustrator of some examples gathered during Duperrey's voyage of discovery between 1822 and 1825.
Please feel free to contact us with questions by phone at 215.735.8811,
or by email at loricohen@aradergalleries.com 
---
We Also Recommend