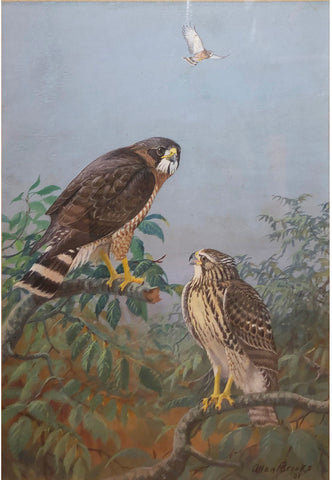 Allan Brooks (American, 1869-1945), Falcons
Allan 
Brooks
(American, 1869-1945)
Falcons
Watercolor and pencil on paper
Signed and dated 'Allan Brooks '31' lower right
1931
Allan 
Brooks
(American, 1869-1945)
Major Allen Brooks, upon returning from the First World War, met Louis Agassiz Fuertes in 1920. They had both admired each other's artwork for years, and became fast friends, greatly enjoying the stimulation of personal and professional discussions. In a letter to Brooks, Fuertes urged his new friend to accept any commission he might receive from Edward Howe Forbush, who was then organizing a huge publication, the Birds of Massachusetts and Other New England States. Fuertes wrote the following recommendation of his friend:

"Major Allan Brooks, of Okanagan Landing, British Columbia, is just as capable as I am - if not more so - to undertake this commission and I haven't the slightest hesitancy in suggesting that you get into touch with him, outline your general idea, and ask him to undertake it. He is a birdpainter with wide experience, a delightful interpretation and close knowledge of wild life, having lived for the past 35 years in Western Canada, close to nature, and having thus attained a wholly sound and solid viewpoint, and having also painted assiduously. In England he is far better known than I am, and this is also true of the west in this country where he has a 'grade A.A.A.' reputation as a painter of birds. The past year he has been working in California on the birds of that State, having finished and gone back to Okanagan just after Thanksgiving. I feel quite sure he could undertake it, having just completed a big work and now taking a little rest. As to his output, he works quite as fast, and certainly achieves fully as good result as I do, so I do not hesitate a moment in suggesting that you ask him to undertake it."

The painting styles of the two men were somewhat similar when they first met, but drew closer after their period of shared experience. Fuertes became interested in Brooks' use of colored paper and opaque paint. Brooks, in turn, took up some of Fuertes's lightness and spontaneity of pose. The more they collaborated, the more they moved consciously closer in style, hoping to achieve uniformity for the books involved. Like Fuertes, Brooks was able to create complex and evocative settings for his flawlessly rendered birds.
---
We Also Recommend