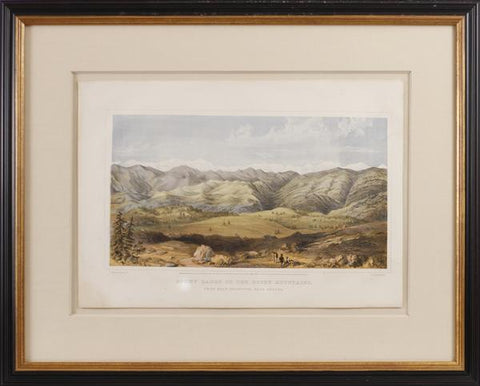 Alfred E. Mathews (1831-1874), Snowy Range of the Rocky Mountains
Alfred E. Mathews (1831-1874)
Snowy Range of the Rocky Mountains
From: Pencil Sketches of Colorado, Its Cities, Principal Towns and Mountain Scenery
Published: New York, 1866
Hand-colored Lithograph

Frame size: 22 1/2 x 28"
These splendid images of Colorado were among the earliest to show the territory in all its natural glory, and also to illustrate its thriving settlements and towns, in the years when settlers were just beginning to stake claims so far west. Almost a decade before Colorado became a state in 1876, Mathews traveled to the vast territory to bring pictures of its majestic beauty and growing communities back east. The natural monuments, Mathews realized, needed little embellishment to convey the absolute and unrivaled grandeur of Colorado scenery, and he portrayed them with remarkable faith and realism. His scenes of Denver and other, smaller settlements evoke the vibrant atmosphere of these flourishing towns, permeated by the excitement of rapid growth and the new opportunity perceived in the American West. Despite the optimism that punctuates Mathews's illustrations, they were remarkably accurate; apparently contemporary viewers could identify the wagons and carriages of various townspeople. The artist aimed to convey a full panorama of the future state: its natural scenery, local mining industry, and the young cities of Colorado Springs, Central City and Blackhawk, as well as Denver.

An immigrant from England, Mathews made his name by producing images of the far west, an area that enthralled him almost from the time of his arrival in the United States. Mathews sketched in most of the western states, generally traveling alone with a pack pony and a riding pony. His talent was such that during the Civil War, General Grant himself recommended him as topographical artist for the Union army. In 1864, Mathews painted a panorama of the war in the deep South, and exhibited throughout the North. Mathews did not attempt to add descriptive text to his images, preferring to let them speak for themselves. As he once noted, "a simple sketch will often convey a better idea of a locality than lengthy descriptions..." Mathews realized that a picture was worth a thousand words, so to speak, and his vivid images of the stunning Colorado scenery captivated the American public.
---
We Also Recommend