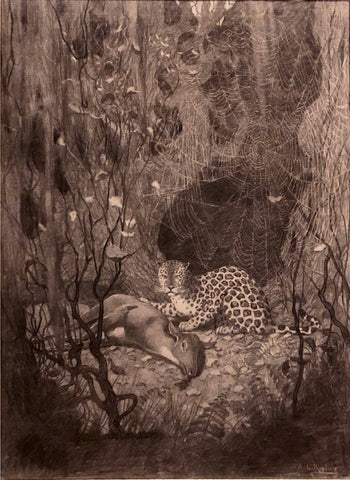 AIDEN LASSELL RIPLEY (AMERICAN, 1896-1969) African Leopard, with a Deer, Through Cobwebs
AIDEN LASSELL RIPLEY (AMERICAN, 1896-1969)
African Leopard, with a Deer, Through Cobwebs
Pencil on paper
Signed lower right and dated 1924
Sight size: 24 x 17 in.
While Aiden Ripley is primarily known for his hunting scenes, his early work was more diverse.  Such as this dramatic grisaille composition of an African Leopard and his kill, a deer at the opening of a cave seen through an intricate weave of cobwebs. Given this work is dated 1921, it was likely drawn during the artist's two-year Paige Traveling Fellowship. In the early 1920s Ripley traveled with his wife Doris Venre to France, Holland, and North Africa.  The African leopard and his prey shown here was most certainly drawn during his time in North Africa.

The economic climate of the Great Depression curbed the demand for his usual subjects, the New England countryside, depictions of city life, and railroad commuting scenes.  However, at the suggestion of a hunting companion, Ripley began incorporating sporting scenes in to his oeuvre.  The success of a 1930 solo exhibition of his sporting art at the Guild of Boston Artists resulted in a shift in focus to hunting, fishing, and outdoor subjects which were to bring him unparalleled success as an artist of this genre.

Ripley won wide recognition and in addition to producing commissions for individual clients, his pictures frequently appeared in Field and Stream magazine.  As the demand for his work increased so did the number of galleries who represented him; in 1936 he began a relationship with the Sportsman's Gallery of Art and Books and later with Kennedy Galleries both located in New York.  The Sportsman's Gallery arranged for him to take hunting (and painting) trips to upper New England in the summer or autumn, and to Florida, Georgia, and South Carolina in the winter.  His private patrons also provided numerous excursions to the salmon rivers of New Brunswick and the quail plantations of Georgia, where Ripley indulged his passion for hunting and fishing while recording material he would use in his art. Ripley was also active in the field of wildlife preservation; in addition to representing various sportsman-related groups in this capacity he served on the town board of Lexington, Massachusetts, and in this capacity, pressed for local preservation of wildlife.  His dedication to this town is also reflected in his 1939 mural for the Lexington Post Office and later public library.

In addition to being a member of the Guild of Boston Artists (of which he was president from 1959 to 1969) he was also a member of the Boston watercolor Society, the Copley Society, the American Artists Professional League, Audubon Artists, the Boston Art Club, the American Watercolor Society, the National Academy of Design, the New York Water Color Society, Allied Artists of America, and the National Society of Mural Painters. Included among the more fifty prizes he received were the Logan Purchase prize and medal, Art Institute of Chicago, IL, 1928 and co-winner, of the first Dacre Bush prize, Boston Watercolor Society, 1929.  His work is represented in the collections of the Art Institute of Chicago, the High Museum in Atlanta, and the Museum of Fine Arts, Boston which held an exhibition of his work in 1942.
---
We Also Recommend