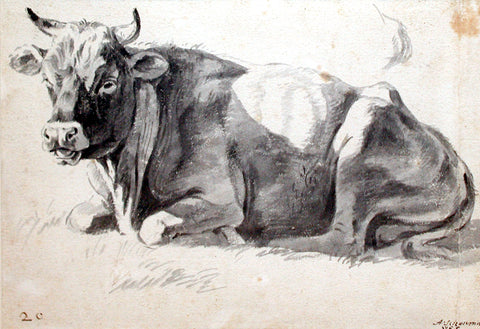 Aert Schouman (Dutch, 1710-1792) A Resting Cow
Aert Schouman (Dutch, 1710-1792)
A Resting Cow
Black chalk framing lines
Signed and dated l.r. recto: A. Schouman 1765
Inscribed verso: N 1886
Paper size: 6 1/4 x 9 1/8 in.
Provenance: Property of a European family trust
Aert Schouman was a prolific artist who specialized in flower painting and engraving on glass but was foremost in the art of natural history painting. After training with F. Greenwood and Adriaen van den Burg, he became a master painter at The Hague in 1748, and three years later regent of the art academy.  By 1762 he had been appointed principal of the academy and included among his pupils the great Dutch flower painter Jan van Os.  

Schouman was fortunate to receive royal patronage and completed many works for Prince Willem V at the summer palace of Het Loo, at Apeldoorn.  The Prince owned a zoological cabinet and a menagerie that contained mammals, snakes, and birds from various parts of the world.  Although newly arrived exotic birds were popularly depicted, the favorite bird subjects in the eighteenth century were still live domestic poultry, followed by dead partridges.  Among the domestic birds, new breeds were being developed and pyle, hamburg and bantam cocks began to appear.  Hens with their chickens were very popular, although the young of almost every other species (with the exception of ducklings and goslings) were ignored.
 
Between 1765 and 1768, Schouman was employed in the pictorial recording of the animals at Willem V's palace at Het Loo. Over one hundred drawings by him can be found in one of the few surviving complete recueils, the Vogel Broeck (the Bird Book).  Moreover, Schouman's depictions of the animals housed in the royal menagerie, along with those of Simon Fokke, formed the core of thirty-four treatises on foreign animals, published between 1767 and 1787 by Arnout Vosmaer. Their illustrations were accompanied by descriptions written by Peter Simon Pallas.

In these beautiful watercolors, the full range of Schouman's skill is spectacularly shown. He forges a remarkable synthesis between a concern for scientific truth and the decorative and exotic aspects of natural history that were highly prized by royal and private clients.

These striking watercolors are by one of the masters of natural history painting and valuable records showing the eighteenth-century synthesis of science and the aesthetic.