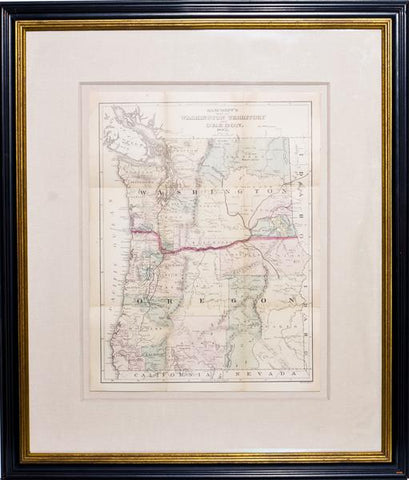 A.L. Bancroft, Washington Territory & Oregon
A.L. Bancroft 
Washington Territory & Oregon
From: History of the Pacific States of North America
San Francisco; 1882
Hand-colored lithograph
Sheet size: 12 x 15 1/2"
Frame size: 21 x 25"
The A.L. Bancroft Publishing Company was founded by Hubert Howe Bancroft . Born in Ohio in 1832, Bancroft worked for his brother in law's publishing house in Buffalo, New York as a young man. In 1852, Bancroft headed west with the intention to start a West Coast branch for his brother-in law's office. In 1856, the branch opened on San Francisco's prosperous Montgomery Street and, by 1857, Bancroft had established a publishing house. Printing maps, law books, school texts and teaching guides, Bancroft 's firm would continue to grow and prosper. In 1860, due to the company's success Bancroft named his brother, Albert Little or A.L., as a new partner. A.L. Bancroft and Company was formed.
Bancroft was not only a successful businessman, but was also an avid collector. Starting in 1860, Bancroft began to collect works on the Pacific West. He hoped to write several historical volumes on western North American cultures, and their history. Most importantly, he aimed to include pioneer's oral histories, termed "dictations," and in doing so preserved numerous historical recollections that might have otherwise been lost.
Bancroft succeeded in writing and publishing 39 volumes entitled History of the Pacific States of North America, also known as Bancroft 's Works. The first five volumes, The Native Races, were published from 1886-1890. Following volumes include treatises on the Northern Mexican States, Texas, Arizona and New Mexico. Despite the volumes success in selling over 6,000 copies, Bancroft 's firm encountered legal and financial difficulties, and the firm closed its doors in 1894.
In 1905 Bancroft sold his collection of over 60,000 historical works to the University of California. Now complied at the Bancroft library at Berkeley which bears his name, the collections are an indispensable research tool for the early history of the West, from Alaska to Central America.
---
We Also Recommend