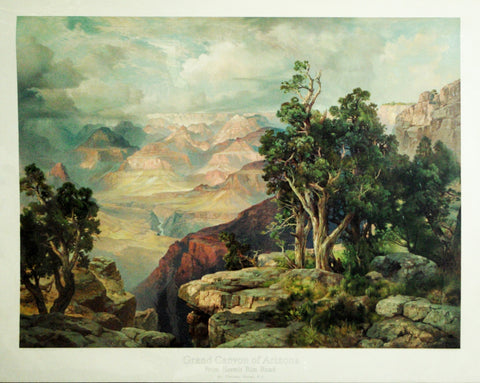 Thomas Moran (1837-1926), The Grand Canyon of Arizona, from Hermit Rim Road
Thomas Moran (1837-1926)
The Grand Canyon of Arizona, from Hermit Rim Road
Published by the Santa Fe Railroad, 1912
Chromolithograph
Sheet size: 25 x 34 1/4"


Published by the American Lithography Company of New York City in an edition of 2,500 copies, this spectacular print was sold, with the original oil painted by Thomas Moran in l9l2, to the Santa Fe Railway Company, which copyrighted the image the following year. At the time, Moran was the nation's best known landscape painter, noted especially for his depictions of the Far West and its parks and monuments. The Santa Fe Railway was the first to lay a line to the Grand Canyon, in 1901. To promote tourism, Santa Fe officials later had copies of this lithograph framed and distributed to schools, libraries, civic organizations, and railroad customers throughout the country. The present example, in pristine condition, is one of a small stock of prints held until recently by the Santa Fe company.

To the great majority of Americans who did not have the resources or daring to travel to the West, Moran provided this image of the country's infinite potential as symbolized by its dramatic, unique landscape. The artist showed American expansion as a fated conclusion, a glorious destiny indelibly written in the literal stone of the country's landscape. Like so many Americans who found such startling significance in the landscape of the American West, Moran was not a native. He immigrated to the United States with his family in 1844 from his native England. Beginning as a wood engraver's apprentice in Philadelphia, he produced an extraordinarily broad range of works: designs for wood engravings, large dramatic oil paintings, small quiet watercolors, and delicate etchings. One of the most celebrated artists of the day, Moran was intimately in tune with the spirit of his age, and this, combined with his phenomenal artistic talent, accounts for much of his fame. Moran painted out of genuine passion, and was not simply responding to a commercial opportunity. For this reason he was uniquely able to understand and capture visually the symbolic significance of the American landscape, and his imagery resonated strongly with a populace hungry for views to complement their romantic conceptions of the distant frontier. Yet for all of his nostalgia, Moran was a realist. He recognized that the beauty of the West needed no embellishment, and his portrayals and views of the West presented it as it was.

Thomas Moran's pictures of the West resonate perhaps even more strongly today than at the time of their production. The optimism visible in his work echoes with the experience of the remainder of the 20th century, and it is with increasing nostalgia for that time of infinite promise that today's viewers regard the artist's work. Moran's images have grown in appeal, rather than wane, and "The Grand Canyon" represents an opportunity to acquire significant work by an unparalleled artist of the American West.
---
We Also Recommend