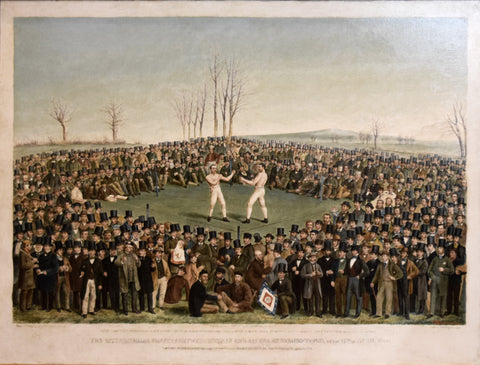 Victor Dubreuil (active 1880-1910), The International Contest Between Heenan and Sayers
Victor Dubreuil (active 1880-1910)
The International Contest Between Heenan and Sayers
c. 1880
Oil on canvas
Signed lower right "V. Dubreuil" 
Canvas size: 31 1/2 x 41 1/2"
Frame size: 36 1/8 x 46 3/8" 
The heavyweight title fight between the English boxer Tom Sayers and his American counterpart John .C. Heenan was fought in 1860. It took place at Farnborough, England because pugilism was still officially outlawed in the United States. However, it was the first title fight to draw attention from both sides of the Atlantic. Heenan outweighed Sayers by 46 pounds and towered six inches above him. Up to this time an American had not been regarded as a serious contender for the world title, but the discrepancy in the weights was expected to give Heenan a real chance. The fight was bloody from the beginning. In the sixth round, Sayers broke his right arm blocking a punch and in the eighth, Heenan broke his left hand. In the 37th round someone cut the ropes and the referee deserted. The fight continued for five more rounds until it ended in a draw. Victor Dubreuil's painting, The International Contest between Heenan & Sayers recreates the 1860 lithograph by the same name in the trompe l'oeil manner that Dubreuil used to paint his well-known depictions of money. He painted money in barrels, money tied in stacks and money pinned to a wall. His skill at trompe l'oeil was so good that he was suspected by the government of being a counterfeiter. Born in New York City to French émigré parents, he spent all of his known career in the place of his birth.
---
We Also Recommend