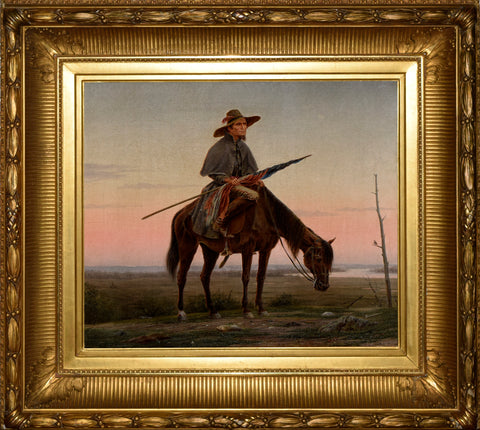 William Moore Davis (American, 1829-1920) - Jefferson Davis, The Forlorn Cavalier
William Moore Davis (American, 1829-1920)
Jefferson Davis, The Forlorn Cavalier
c. 1864
Signed lower right "W.M. Davis 1864
"
15 x 17 1/8" (canvas), 23 ¾ x 25 ¾" (frame)
Period gilt wood frame and composition frame.
William Moore Davis, no relation to the president of the Confederate States, found fame in New York by painting Civil War subjects. His most famous image was of Jefferson Davis, painted in 1862, and was widely distributed in printed form. This image of Davis on horseback shows him in a planter's hat, grey uniform, carrying a version of the Confederate Flag, against a backdrop of the war ravaged landscape.