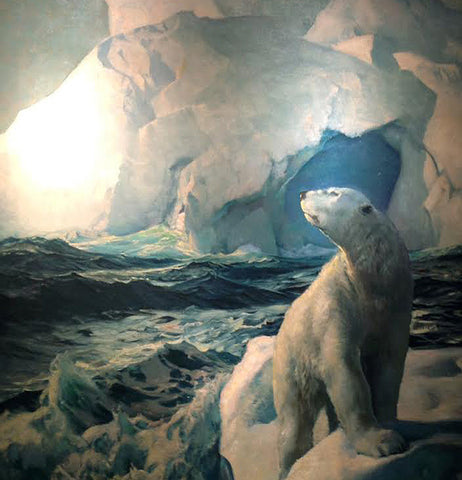 FREDERICK JUDD WAUGH (1861-1940) 70 Degrees North, 1932 Also known as 80 Degrees North; 90 Degrees North; The Polar Bear)
$ 675,000.00

$ 675,000.00
---
---
FREDERICK JUDD WAUGH (1861-1940)
70 Degrees North, 1932
Also known as 80 Degrees North; 90 Degrees North; The Polar Bear)
Signed lower right, 'Waugh'
Oil on canvas
Canvas size: 60" x 72"
Frame size: 68" x 80"
Framed to full museum specifications.
Frederick Judd Waugh was one of the finest American marine painters of the twentieth century, or perhaps more accurately, one of the greatest painters of the sea, for while ships do appear in many of his paintings, it was with his paintings of the sea and coast that he achieved his greatest success. As a seascapist he was unsurpassed in American art during his lifetime. Though a work from his late career, 70 Degrees North was painted at the height of this artist's fame, indicated by its successful appearance in the 1931 Corcoran Biennial in Washington, D.C. Here one can see Waugh's mastery of the sea - the swelling and breaking of waves, the sense of unending flow, and the capture of light on water. While natural history was an atypical subject matter for the artist, his polar bear drew accolades. A writer for the Wall Street Journal who reviewed the painting during its exhibition at the Grand Central Art Galleries noted: "his large version of a huge white polar bear standing lonely sentinel before a glistening white crag tests Mr. Waugh's powers to the limit." Waugh's polar bear, surveying his artic kingdom, would seem to be the most profound rendition of this noble beast in American art of the period. The title, 70 Degrees North, defines the region in two ways: when the latitude of 70 degrees north is crossed one is within the Arctic Circle; and, though it changes with time, in the early 30's, 70 degrees north was the location of the magnetic North Pole.
---
We Also Recommend