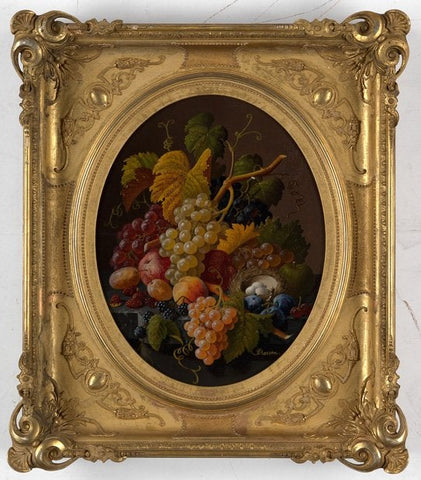 Severin Roesen (circa 1816-1872), Still Life with Fruit
Severin Roesen (American, 1816-1872)
Still Life with Fruit
ca. 1855
Oil on canvas
Signed l.r. "Roesen"
Canvas size: 14 3/4 x 18 3/4"
Frame size: 25 x 29"
Born in Germany, Severin Roesen exhibited in Cologne in 1847 and is thought to have studied in Düsseldorf. Originally trained in the decorative arts tradition as a painter on porcelain, Roesen developed a style which included a great attention to detail and an interest in brilliant color. The artist emigrated to the United States in 1848, living, working and exhibiting in New York City until 1852, when he moved to Pennsylvania, settling eventually in Williamsport.

Roesen's complex, lavish still-lifes of fruit and flowers established the tradition for the genre in 19th-century America as well as the style for large canvases suitable for dining-room decoration. These works reveal his training as a painter of enamels and china with their crisp drawing, bright colors and smooth surfaces. This particular painting anticipates Roesen's fully mature style, exhibiting his synthesis of 17th-century Dutch still life, the Düsseldorf Academy's sharp naturalism and the era's strong interest in botany. The composition unfolds across an oval format, with a variety of fruits that, in their abundance, seem to spill over into the viewer's space from their perch atop a marble ledge. Two vines of white grapes form opposing diagonals around which the other fruits -- apples, plums, cherries, black berries, and a peach -- are arranged, while a bird's nest holding three eggs is nestled in the lower-right hand corner.

Although Roesen was acclaimed for his work, it wasn't until almost 100 years after his death that his paintings were brought to the attention of the larger public by First Lady Jackie Kennedy, when she hung several of his paintings in the newly refurbished White House.
---
We Also Recommend