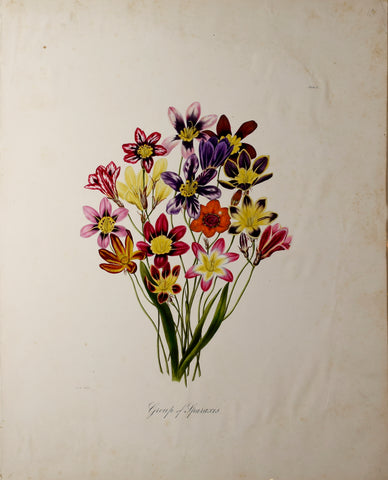 Arabella Elizabeth Roupell, Group of Sparaxis
Arabella Elizabeth Roupell
Group of Sparaxis
Specimens of The Flora of South Africa
Published by W. Nicol, 1849
Lithographs with original hand-coloring
Sheet size: 22 1/2 x 17 3/4 inches
Arabella Roupell (née Piggott, 1817-1914) was in many ways an unlikely star in the world 

of

 botanical illustration. When in 1843 her husband was posted to the Cape 

of

 Good Hope in his work for the East India Company, Roupell joined him. Nathaniel Wallich, then director 

of

 the Calcutta Botanical Garden, recognized the quality 

of

 her work and when Roupell and Wallich were all in London in 1846, he encouraged the artist to send her work to the first director 

of

 Kew, Sir William Jackson Hooker. With Hooker'

s

 enthusiastic response, Roupell with her brother-in-law had the drawings cut into stone by Paul Gauci, son 

of

 the great Maltese-British lithographer Massimo Gauci. William Henry Harvey, the Irish botanist better known for his work on algae, supplied the text. The large-format work was lavishly made, and it is often asserted that copies were made only for subscribers (103, subscribing for 111 copies). The list is certainly impressive, including Queen Victoria and Prince Albert, the directors 

of

 the East India Company, several titled people and, notably, a great many women (45). The work was published anonymously, but the hint at the very end 

of

 the work that the genus 

of

 the Roupellia grata (modern Strophanthus gratus) made a fitting connection to the work, along with the several Roupells (as well as Piggotts) in the subscriber'

s

 list, prevented the anonymity from sticking for long. The binding is consistent with (if not identical to) that 

of

 other known copies, and the central roundel with the title is identical, suggesting at most a small set 

of

 binders for the work. Frederick DuCane Godman (not a subscriber, 1834-1919) was a founding member 

of

 the British Ornithologists' Union, best known for his work on Central American birds, most notably the 63-volume Biologia Centrali-Americana. Laid in is a copied drawing 

of

 Microrhynchus sarmentosus, which flourishes in 

South

 

Africa

. The paper is watermarked 1863, so it may well be the work 

of

 a young Godman. The use 

of

 wash in particular is quite accomplished. 
Arnold, 

South

 

African

 Botanical Art 39; BM(NH) IV:1742; Mendelssohn II:254; Nissen, BBI 1687; Sitwell, Great Flower Books 134; Stafleu-Cowan 9684.
---
We Also Recommend