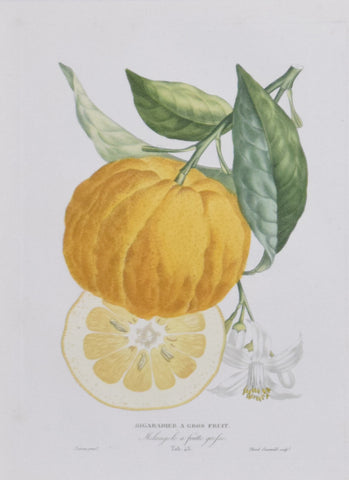 Antoine Risso (1777-1845) & Antoine Poiteau (1766-1854), Bigaradier A Gros Fruit
Antoine Risso (1777-1845) & Antoine Poiteau (1766-1854)
Bigaradier A Gros Fruit 
Histoire Naturelle des Orangers
Published Paris, 1818-1822
Stipple Engravings printed in color and finished by hand
Paper size: 13 3/8 x 10 1/8"
The magnificence Pierre Joseph Redouté brought to the art of rose and lily illustration was equaled by his pupil, Pierre Antoine Poiteau, in the splendid engravings of oranges, lemons and grapefruit presented in the Histoire Naturelle des Orangers. This spectacular publication has long been admired by botanical art connoisseurs and was singled out by Wilfrid Blunt for providing "a Hesperidean holiday among the orange and citrus groves." He went on to state that this beautiful and inspiring work is in no way inferior to Redouté's Les Liliacées or Les Roses and given the opportunity Poiteau might have enjoyed the same renown as his master.However, among those who studied under Redouté, Poiteau is perhaps one of the most successful. Born at Ambleny, near Soissons, his skill in botanical illustration was undoubtedly helped by an apprenticeship at the Paris Jardin des Plantes where he was singled out by Thouin and trained as a botanist. He went on to found the Bergerac botanical garden and later traveled to San Domingo to collect plant specimens.
Poiteau's watercolor technique was learned from Redouté and it is likely that the master also influenced the choice of stipple engraving in the production of the plates for the Histoire Naturelle des Orangers. Redouté used this process in the creation of his own Les Liliacées and Les Roses and was thus able to give his illustrations a softness and graduation of tone previously unachievable in botanical engraving and also witnessed in Poiteau's images.Orangeries began to appear in European gardens during the seventeenth century and their popularity continued for several centuries. They quickly became a favorite area for strolling no doubt due to the plants exotic and sweet-smelling aroma. However, the orangeries were also the location for the creation of new citrus cultivars and Poiteau's text beautifully illustrates not only the wide selection of strangely shaped fruits from around the world, but also new citrus varieties. The foliage, exterior and interior of each fruit is exquisitely displayed and each golden orb glows upon the sheet. The images are testaments to the amazing advances in scientific investigation and yet also proide the observer with aesthetically beautiful and accomplished depictions.The Histoire Naturelle des Orangers was dedicated to the Duchesse de Berry and its vibrant illustrations can be considered glowing masterpieces of French botanical illustration, completed during the period in which France excelled in the field.
---
We Also Recommend