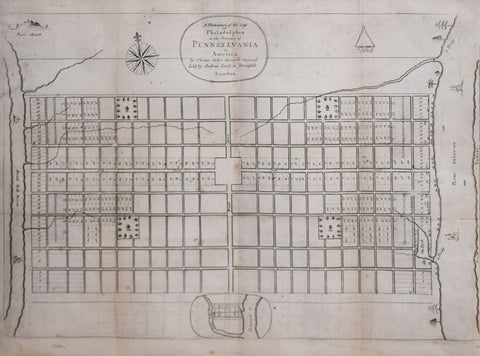 Thomas Holme (1624–1695), A Portraiture of the City of Philadelphia in the Province of Pennsylvania…
Thomas Holme (1624–1695)
A Portraiture of the City of Philadelphia...
Reprinted in the Ordinances of the Corporation of the City of Philadelphia: John C. Lowber and Thomas Holme
Published: (1683), 1812
Engraving
Sheet size: 13  ⅛  x 18"
Framed size: 22 1/2 x 27 1/4"
In 1682, William Penn appointed Holme surveyor-general of Pennsylvania and charged him with the task of laying out the "greene country towne" that Penn envisioned along the Delaware River. The site that Penn acquired for the city of Philadelphia stretched two miles east to west across a tract of land situated between the Delaware and Schuylkill Rivers; all told, the rectangular grid of land comprised twelve thousand acres. Holme imposed an orderly grid plan on the site, with streets organized around a large square in the center of the town and four smaller squares, one in each quadrant. The grid also included two main streets, Broad and High (present-day Market), which were kept wide in hopes of preventing the kind of fire that destroyed London in 1666. Completed in 1683 A Portraiture of the City of Philadelphia was used for both reference and promotional purposes to show the unique layout of William's Penn emerging city.

This example was included in John C. Lowber - Ordinances of the Corporation of the City of Philadelphia 1812. "The first three states of the map were all printed in London in 1683 by the Quaker printer Andrew Sowle, and are distinguished by minor variants in the imprint. In the 1790's the original engraving plate was brought to Philadelphia, where, with slight alterations and added information, this fourth state was printed. The advertisement leaf following the title page explains: "For the Portraiture of the City, in the Appendix, the editor is indebted to Dr. George Logan, of Stenton, who is in possession of the original plate, from which the impression was taken." Logan was a direct descendant of James Logan, who was effectively the Penn family representative in America from about 1699 until his death in 1751. Because the the date of the original text that accompanied the map, the the fourth state is usually dated 1812. The original printing plate is now at the Historical Society of Pennsylvania."
---
We Also Recommend