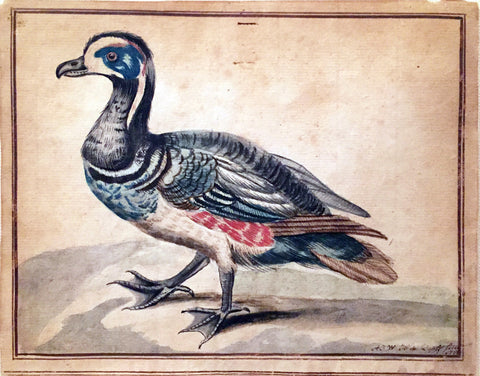 A.J.W.H. de Dopff (Dutch. fl. 18th-century), A Harlequin Duck
A.J.W.H. de Dopff (Dutch. fl. 18th-century)
A Harlequin Duck
Pen and ink and watercolor on laid paper
Signed lower right 'AJ:W:H: de Dopff fecit/ 1781'
Netherlands: 1781
Sheet size: 7 x 8 ½ in.

The harlequin is a small diving sea duck and is among the most beautiful waterfowl of North America. As such, it is much sought after by bird watchers and naturalists. The striking blue, white, black, and chestnut plumage of the males give the duck its name, in honor of the Italian harlequin clown. Harlequins are found in the northern hemisphere and winter in both the Atlantic and Pacific Oceans. The larger Pacific population breeds in Asia and western North America. The smaller Atlantic population breeds in eastern Canada, Greenland, and Iceland. a very small population of Harlequins winter along the coast of eastern North America, including Maine.
Please feel free to contact us with questions by phone at 215.735.8811,
or by email at
loricohen@aradergalleries.com
---
We Also Recommend