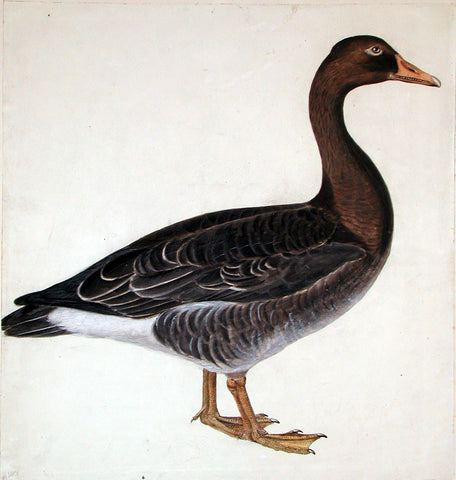 Prideaux John Selby (British, 1788-1867), "Common Wild Goose"
$ 125,000.00

$ 125,000.00
---
---
Prideaux John Selby (British, 1788-1867)
"Common Wild Goose"
Original watercolor prepared for Plate 41 of Illustrations of British Ornithology
Watercolor, gouache, grey and brown washes on paper
Signed lower left: PJSelby
London, ca. 1820
Paper size: 20 x 17 5/8 in

Selby's description of the Common Wild Goose is as follows:
"From the concurrent testimony of our older writers, it appears that this species was formerly very abundant in Britain; and was also a permanent resident here, breeding annually in great numbers in the fens of Lincolnshire, and some of the adjoining counties. The draining and cultivation of these marshy tracts, under progressive agricultural improvement, and the increasing population of the kingdom, has, however, banished these birds from their ancient haunts; and they are now, comparatively speaking, of rare occurrence, and, as far as I can ascertain, only met with in small flocks during the winter… According to TEMMINCK, the present species seldom advances much beyond the fifty-third degree of north latitude; its geographical distribution extending over the central and eastern parts of Europe, Northern Asia, and some parts of Western Africa, where it inhabits the marshes, and the borders of lakes and inland seas . It breeds amongst the rushes and other coarse material making a large nest of vegetable matter, and laying from six to twelve eggs of a sullied white. Its food consists principally of the various grasses of the moist and marshy tracts it affects, though it eats grain with avidity. It is also very fond of the tender blades of wheat, &c., and often, during its periodical visits, does considerable damage to corn fields in an early stage of growth. Being a bird of great shyness and vigilance, it can only be approached by stealth, and with the utmost caution ; this is generally effected by that mode of fowling called stalking, in which a horse is so trained, as, hiding the person of the fowler, to advance by degrees, and in an easy and natural manner, upon the flock, as they are at rest or feeding on the ground. In the latter state, which only occurs during the day-time, sentinels (occasionally relieved) are always on the watch to give notice of approaching danger, which they do, on the slightest suspicion, by a cry of alarm ; and immediately the whole flock take wing, with an alertness and rapidity that could scarcely be expected in birds of such bulky appearance. At night they generally retire to the water for repose, but the same watchful attention to safety is maintained by sentinels, that distinguishes their conduct during the day. They usually fly at a great height in the air, moving either in a single diagonal line, or in two lines forming an angle, or inverted V. In this order the office of leader is taken by turns, the foremost, when fatigued, retiring to the rear, and allowing the next in station to lead the flight. It is generally admitted that our race of domestic Geese has originally sprung from this species, and however altered they may now appear in bulk, colour, or habits, the essential characters remain the same; no disinclination to breed with each other is evinced between them, and the offspring of wild and domesticated birds are as prolific as their mutual parents. The value of this species in its present domestic state, not only as food, but from the various uses to which its covering applies, is too well known for me to dwell upon ; and as these points, along with the rearing and management of the bird, have been fully treated of by PENNANT, MONTAGU, and BEWICK, I refer my readers, without further apology, to the works of these distinguished authors.
PLATE 41. represents this bird in about four-fifths of the natural size. Bill orange-red ; nail of the bill greyish-white (which, General however, is not invariably the case, as TEMMINCK asserts in his description of the distinctive characters of this and the following species). Head and neck clove-brown, tinged with grey, the feathers of the latter disposed in rows, and forming lines or furrows. Back, scapulars, and wing coverts clove-brown, tinged with ash-grey, and the feathers deeply margined with greyish-white. Lesser wing coverts deep bluish-grey. Upper tail coverts white. Breast and belly greyish-white, undulated with transverse bars of a deeper shade. Vent and under tail coverts white. Tail clove-brown, with the margins and tips of the feathers white. Legs and feet tile-red."
Prideaux John Selby (British, 1788-1867)
Considered by many as the English equivalent of Audubon, Prideaux John Selby created some of the most memorable bird images of the nineteenth-century. His contributions to British ornithology were rivaled only by those of John Gould. Yet, his pictures were larger and less purely scientific, exhibiting Selby's distinctive and charming style. A sense of Selby's enthusiasm for his subjects is nowhere more palpable than in his engaging original watercolors. Selby executed these delightful images as preparatory models for his landmark printed series, Illustrations of British Ornithology. While the artist's engraved work is highly desirable to collectors, Selby's original watercolors rarely become available. This selection of watercolors, moreover, comprises several of his masterpieces. The distinctive birds are depicted in profile, their forms delineated by softly modulated tones of black and gray wash. The setting, if present, is lightly but skillfully painted to not distract from the birds themselves. The skill and delicacy of Selby's touch, his keen powers of observation, and his artistic sensitivity are conveyed here in a way they are not in his printed work. Several of the drawings are by Selby's brother-in-law, Robert Mitford, but signed in Selby's hand.

Born in Northumberland and educated at University College, Oxford, Selby was a landowner and squire with ample time to devote to studying the plant and animal life at his country estate, Twizell House. As a boy, he had studied the habits of local birds, drawn them, and learned how to preserve and set up specimens. Later, Selby became an active member of several British natural history societies and contributed many articles to their journals. Although Selby was interested in botany and produced a History of British Trees in 1842, he is best known for his Illustrations of British Ornithology. Selby's work was the first attempt to create a set of life-sized illustrations of British birds, remarkable for their naturalism and the delicacy of their execution. The British Ornithology was issued in nineteen parts over thirteen years; the book consisted of 89 plates of land birds and 129 plates of water birds, engraved by William Lizars of Edinburgh, the printer who engraved the first ten plates of Audubon's Birds of America.

With their rich detail and tonal range, these exquisite watercolors are beautiful works by one of the foremost British bird painters. Furthermore, they represent a singular opportunity to obtain a unique piece of the highest quality by this luminary artist, from an era in British ornithological art that remains unparalleled. 
Please feel free to contact us with questions by phone at 215.735.8811,
or by email at loricohen@aradergalleries.com 
---
We Also Recommend