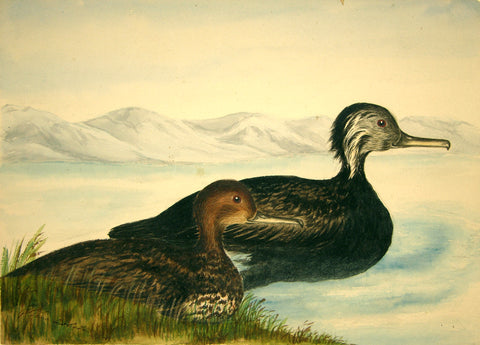 Olivia Nicholetts (British, fl. 1850-1870), Black Mergansers
Olivia Nicholetts (British, fl. 1850-1870)
Black Mergansers
Prepared for "The Game Birds and Wild Fowl of India" by Thomas C. Jerdon.
Calcutta, 1864.
Watercolor on paper
Signed lower left: O. Nicholetts
Verso: 35. Black Merganser. Artists inscriptions.
Paper size: 14 x 10 1/8 in

OLIVIA NICHOLETTS (BRITISH, fl. 1850-1870)
Olivia Nicholetts' original watercolors were prepared for Thomas Jerdon's The Game Birds and Wildfowl of India (1864). Game birds of various Indian districts, including Delhi, Kampa Valley (near Tibet), and Grogaon, are noted on most of the drawings' verso.

Thomas Jerdon was a physician, zoologist, and botanist best known as a pioneering ornithologist in India. Jerdon's initial work in India dealt with fever and dysentery that affected the troops posted in the Ganjam district. Jerdon started collecting birds almost immediately on arrival in India on 21 February 1836. He sent his collections of birds collected during his early travels to William Jardine for identification. Still, by the time they arrived at Jardine's house in Scotland, they had become infested by moths. Jerdon trusted his identifications from then on. The need to make an accurate guide was necessary to assist others, which he stated in the Prospectus in his Birds of India regarding the proposed The Fauna of British India, Including Ceylon and Burma:

"The want of brief, but comprehensive Manual of the Natural History of India has been long felt by all interested in such inquiries. At the present, it is necessary to search through voluminous transactions of learned Societies, and scientific Journals, to obtain any general acquaintance with what has been already ascertained regarding the Fauna of India, and, excepting to a few more favorably placed, even these are inaccessible. The issue of a Manual, which should comprise all available information in sufficient detail for the discrimination and identification of such objects of Natural History as might be met with, without being rendered cumbrous by minutiae of synonymy or of history, has therefore long been considered a desideratum. To meet this want it is proposed to publish a series of such Manuals for all the Vertebrated Animals of India, containing characters of all the classes, orders, families, and genera, and descriptions of all the species of all Mammals, Birds, Reptiles, and Fishes, found in India."

The Game Birds and Wildfowl of India (1864) was one of Jerdon's later works and represent the culmination of his refined ornithological findings in India.
---
We Also Recommend