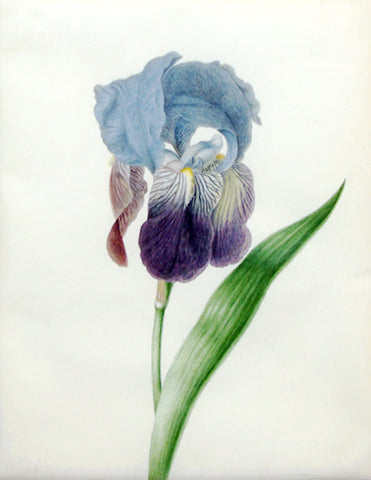 Johanna Helena Graffe (German, 1668-1723), Iris germanica L. hybrid
Johanna Helena Graffe (German, 1668-1723)
Iris germanica L. hybrid
Watercolor and bodycolor on vellum
ca. 1720
Vellum size 9 1/2 x 7 1/4 in
Frame size 15 1/2 x 13 1/4 in
Provenance: The van Pallandt Collection
These rich and delicate watercolors were painted by Johanna Graffe, the eldest daughter and finest pupil of Maria Sibylla Merian.

Johanna's mother, Maria, was one of the most remarkable figures among natural history artists.  Raised in a family of artists, she took the unusual step of leaving her husband to join the Labadist religious sect in Holland. Already a successful and published illustrator of insects, she and her younger daughter, Dorothea, left Holland for Surinam in 1701, where he compiled hundreds of drawings of insects and flowers for her landmark Metamorphosis Insectorum Surnamensium.  Poor health ultimately forced Maria to return to Europe during preparation for the second edition (1719) of this great work.  Daughter Johanna took up Maria's mantle, traveling to Surinam in 1717 to complete her mother's project.

The fine rendering, accomplished use of color and engaging baroque formalism of Johanna's work bear the earmarks of her mother's influence. Graffe's superb drawings beautifully complemented the work of her famous mother.  Graffe's watercolors successfully marry scientific observation - the fine depiction of larval stages, for example - with a rich aesthetic experience.
Please feel free to contact us with questions by phone at 215.735.8811,
or by email at loricohen@aradergalleries.com 
---
We Also Recommend