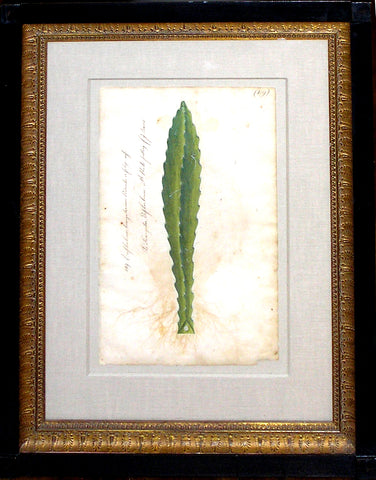 Daniel Carthidge, The Triangular Euphorbium with Roots Putting off Leaves
Daniel Carthidge
The Triangular Euphorbium with Roots Putting off Leaves
Prepared for The Figures of Several Plants both Exotic, & of British Produce Drawn for Sr. Tho. Shortt
Watercolors: each with paper size approximately 14 1/8" x 8 7/8"
England, 1784
Framed size: 24 x 19 in.
Even after England lost its most important colony, America, the British Empire remained vast in the last decades of the 18th-century.  Many English artists looked for inspiration in the exotic flora and fauna of the more distant colonies, and the British populace provided a ready and eagerly curious market for such images.  Carthidge's striking, singular images satisfied such public appetite for knowledge of the far away colonies and won him great acclaim in the process.  Representing a selection of the prototypes he personally created for an engraved publication, these original watercolors render abundantly clear the reasons for Carthidge's success.
 Included are examples of trees and plants that provided products that the English used on a daily basis, most notably tea, coffee, cinnamon, pepper, and lemons.  Yet while such things were readily available in England, few citizens really had any notion of the actual appearance of such plants.  Other watercolors represent species that were more obscure to the British, including papayas and pineapples, which generally could not last for the long trip to England from the colonies.
Please feel free to contact us with questions by phone at 215.735.8811,
or by email at loricohen@aradergalleries.com 
---
We Also Recommend