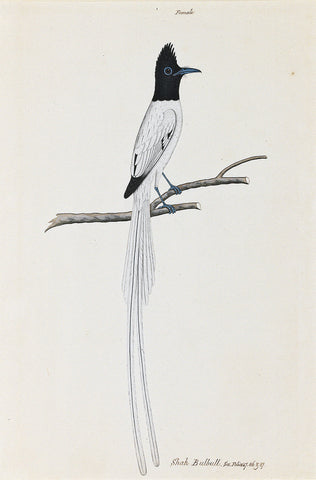 Calcutta School, Indian Paradise-Flycatcher
Calcutta School, circa 1810
Indian Paradise-Flycatcher [An Asian Paradise-Flycatcher, Terpsiphone paradisi.] Male.
with inscription 'Shah Bulbull [sic]. See Folios 47. 86. &. 87.' (lower right) and with a further inscription 'Female' (upper center)
Pen and black and grey ink, watercolor and bodycolor with gum arabic, watermark Strasburg Lily
Paper size: 17¾ x 12 in.
Provenance: Niall Hobhouse collection. The Hobhouse collection was known to have a number of supreme examples of company school works including several works prepared by Bhawani Das and prepared for Lady Impey.
Until 2015, the Indian paradise flycatcher, Blyth's paradise flycatcher, and the Amur paradise flycatcher were all considered conspecific and together called Asian paradise flycatcher. Corvus paradisi was the scientific name proposed by Linnaeus in 1758. Early naturalists thought that this bird spent the first three years chestnut-colored and then on the third or fourth autumn molt began to lose chestnut feathers that came back in white and permanently remained in this state. However, later research confirmed that only the male birds turn white, not the females. Males have elongated central tail feathers and black and rufous plumage in some populations, while others have white plumage. Females are short-tailed with rufous wings and a blackhead. Thus, the artist incorrectly notes, "female."

This bird can be found in India's wooded forest areas as far east as Nepal in the Himalayas and the Brahmaputra river in the plains. To the west, this species extends into Afghanistan, and to the north into Turkestan. In Kashmir and other parts of the Himalayas, it is found in the summer up to 9000 feet. They feed on insects under thick twig trees. Their distinctive noisy sharp shrieks, 'che-che' or 'che-chew' or sharp 'zweet zweet' allow their calls to break with their surroundings' heavy thicket.

'Bulbul' was a term to describe very fine songbirds in British India generally. This distinction of 'Shah Bulbull' (sic) is to draw attention to this bird's mystical heritage within the area where it was likely painted and perhaps the painter's religion.

Bulbul Shah was the first Suhrawardi Sufi to have entered Kashmir. He is best known for converting the king and increasing the prestige of Islam in the Kashmir valley. Bulbul Shah led a life of complete self-abnegation and preached against superstitions widely prevalent amongst his period's Kashmiris. He showed great love towards the oppressed. The associations between the Shah and the bird stem from a mystical legend. The Shah's birthname was Hazrat Syed Sharaf- ud- Din. One day while making an ablution near a stream, he saw a bulbul bird on a tree singing beautifully, suddenly the bird flew towards the sky. The Shah flew after the bird and caught hold of the bird and flew down into his cottage, and the bird vanished. In the episode, the Shah stated that the bird was not a bird, but his soul flew towards the sky, and he followed it and caught hold of his soul. While the Shah died in 1327, he is remembered as one of Kashmir's most prominent figures. All the historians seem to agree Bulbul Shah was the first saint who sowed the seeds of Islam in Kashmir.
By the late 18th-century, many Mughal-trained painters in India looked to the emerging British ruling class for patronage. The products of the Lucknow School, based in Lucknow, India, were often albums of flora, fauna, and other exotic sights of India, made to be taken back to Britain. Of the varied subjects, bird studies were a classic type. Paintings of birds, animals, and flowers had been a dominant genre in Indian art since the time of the Mughal emperor Jahangir (1605–27), and the continuation of such subjects under British patronage was a natural extension of that established tradition. However, the results were often quite different stylistically.

In the second half of the 18th-century, the East India Company's English governing elite started commissioning Indian artists to paint subjects of interest to them. The themes related to India's foreign lavish lifestyle, their houses and possessions, botanical and zoological studies, and Indians in their typical dresses pursuing their crafts and professions. This type of work is called Company art. The British elite in India generally adopted an extravagant lifestyle that could be cultured and indulgent. They spent heavily on houses, horses, books, music, and pictures.

Indian painting and Indian art were patronized, most notably by Warren Hastings, governor, and governor-general of Bengal from 1772. Women also became connoisseurs. Mary Impey, the wife of Elijah Impey, chief justice of Fort William, Bengal, from 1773 to 1783, commissioned beautiful drawings of Indian natural history. Margaret Benn-Walsh moved to India to join her father and brother in 1776, delighted in north Indian songs, setting them in Western musical notation as "Hindostannie airs." Those members of this elite who survived aimed to return to live in England or Scotland (which won a stake in Indian service early in the century), at least in the style of affluent gentry.
Please feel free to contact us with questions by phone at 215.735.8811,
or by email at
loricohen@aradergalleries.com
---
We Also Recommend