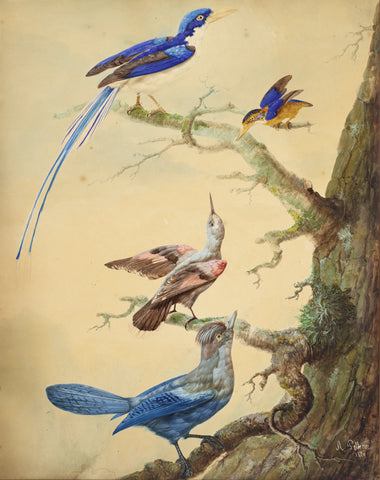 Auguste Pelletier (French, Fl.1800-1847), A Common Paradise Kingfisher, a Kingfisher, a Wallcreeper, and a Steller's Jay perched on branches
$ 125,000.00

$ 125,000.00
---
---
Auguste Pelletier (French, Fl.1800-1847)
A Common Paradise Kingfisher, a Kingfisher, a Wallcreeper, and a Steller's Jay perched on branches
signed 'A Pelletier/ 1829'
Graphite, watercolor and gouache
Paper size: 23 x 18 1/4 in.
Frame size: 30 x 35 in.
Provenance: Private collection, Saint-Tropez.

The nineteenth-century was a golden age of bird painting due to countless scientific expeditions that were conducted at some supremely exotic locales. Consequently, Europeans were brought in contact for the first time with a dizzyingly high number of (as yet) undocumented species of plants and animals. Scientists routinely employed gifted artists like Pelletier to disseminate images of the newly discovered flora and fauna.

The following watercolors by Auguste Pelletier serve as excellent examples of the artist's ability to fuse science and aesthetics principles. The French natural history painter beautifully and accurately renders the birds' feathers, body, and colors. Using deeply saturated colors, Pelettier successfully evokes the richness of its distinctive deep purple plumage.
Please feel free to contact us with questions by phone at 215.735.8811,
or by email at loricohen@aradergalleries.com 
---
We Also Recommend